General
Applications
Games
Artwork / Add-Ons
LBackup
(Lelldorins Backup Tool)

Description





A freely configurable backup program.

LBackup can be used to back up entries listed in the program. For this purpose, the listed entries are saved as single zip files in a temporary folder. These backup files can then be exported or burned to CD / DVD.
The entries listed in the program are names with path information saved in text files. These can be edited or your own lists can be created. This makes it possible to create your own backup list with a little expenditure of time.





Ein frei konfigurierbares Backup Programm.

Mit LBackup kann man im Programm gelistete Einträge sichern. Dazu werden die gelisteten Einträge als Einzel-Zip-Dateien in einem temporären Ordner gesichert. Diese Sicherungsdateien können dann exportiert oder auf CD/DVD gebrannt werden.
Die im Programm gelisteten Einträge sind in Textdateien gesicherte Namen mit Pfadangaben. Diese können editiert oder eigene Listen erstellt werden. Damit ist es möglich, mit ein wenig Zeitaufwand, seine eigene Sicherungsliste zu erstellen.

Screenshot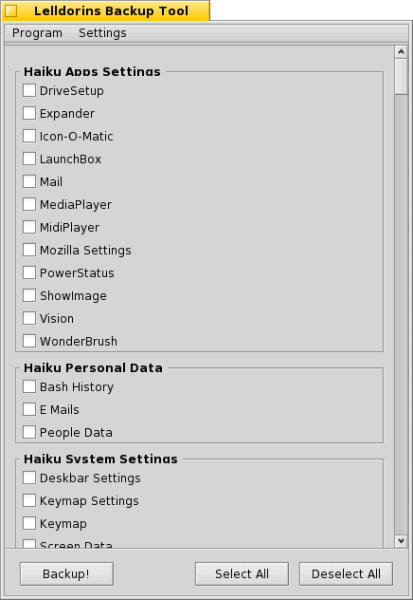 Download

BeSly Software Repository (32bit / 64bit)