General
Applications
Games
Artwork / Add-Ons
Menu Sorter
Description



A program for editing the menu entries.

This program uses a hack to make the Haiku menu editable. For this purpose, a new folder is created and all specified programs are linked to it. If this directory exists, the standard menu is automatically deactivated and the new one is displayed.
The MenuSorter also offers the deactivation and activation of the alternative menu. The disadvantage of this menu management is that you have to manually maintain all newly installed programs from the time of activation.





Ein Programm zum Editieren der Menu-Einträge.

Dieses Programm nutzt einen Hack um das Menü von Haiku editierbar zu machen. Dazu wird ein neuer Ordner angelegt und alle angegebenen Programm dahin verlinkt. Wenn dieses Verzeichnis vorhanden ist, wird automatisch das Standard Menü deaktiviert und das neue angezeigt.
Der MenuSorter bietet dazu noch die Deaktivierung und Aktivierung des alternativen Menüs.
Nachteil beim diesem Menü-Management ist, dass man ab dem Zeitpunkt der Aktivierung, alle neu installierten Programme von Hand nachpflegen muss.

Screenshot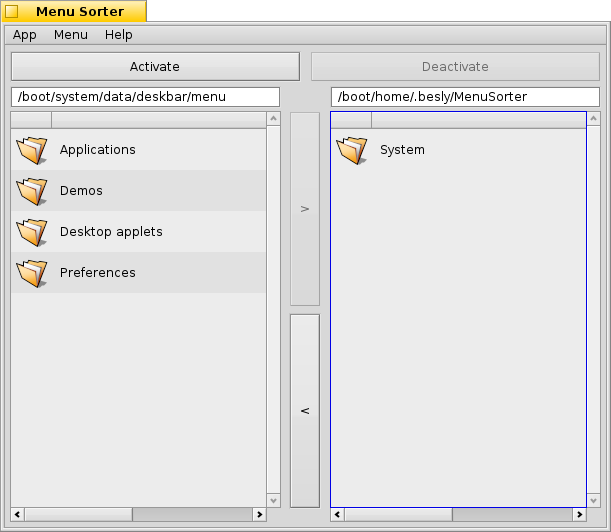 Download

BeSly Software Repository (32bit / 64bit)